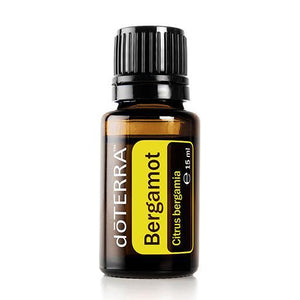 Description
From the coast of Reggio di Calabria in Italy, Bergamot is one of the most unique citrus oils. For years, Italians have used Bergamot for many purposes—to rejuvenate the skin, reduce feelings of stress, and more. There are many unique attributes of Bergamot that set it apart from other citrus oils, including the exclusivity of where it is grown, the fact that it is a bitter fruit that produces sweet oil, and its ability to create an uplifting and calming environment, just to name a few. Commonly used for soothing skin, in massage, and to purify and uplift, Bergamot essential oil is a versatile, go-to favourite.
Uses
Apply to the skin while showering and enjoy its purifying skin benefits.

Use with doTERRA Fractionated Coconut Oil for a calming and relaxing massage.

Add one to two drops to your DIY skin care cleanser.
Directions for Use
Diffusion: Use three to four drops in the diffuser of choice.
Food additive: Dilute one drop in 125 ml of liquid.
Topical use: For massage, mix 5 drops with 10 ml carrier oil. For bath, mix 5 drops with 5 ml carrier oil. For perfuming, mix 1 drop to 10 drops carrier oil.
Cautions
Possible skin sensitivity. Keep out of reach of children. If you are pregnant, nursing, or under a doctor's care, consult your physician. Avoid contact with eyes, inner ears, and sensitive areas. Avoid sunlight or UV rays for up to 12 hours after applying product.